Minoru Tatsukawa (達川 ミノル Tatsukawa Minoru) is a member of the yakuza group, the Kuroda Clan. He is currently 21 years old, but was 14 when he was officially labeled as Ojou's little brother and entered the Kuroda Clan.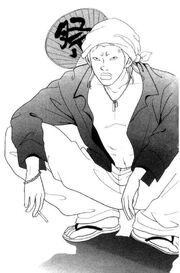 History
Minoru is one of the members of the Kuroda group. He along with Tetsu were taken in by Kumiko as her sort of younger brothers. Though she tried her best to give them a normal life, school life wasn't so easy. Both their teachers kicked them out when they found the boys unsettling for class. He and Tetsu are often seen protecting Kumiko.
Minoru once fell in love with Ayaka Noda, the older sister of one of Kumiko's students. Upon hearing that Ayaka and their father had a fight over the relationship, Kumiko immediately asked Minoru if he was serious about her. He wasn't sure but later admitted he was serious about Ayaka. To which Kumiko, demanded he leave the Kuroda group to start a normal life and job. Minoru was very much against the idea, since the gang world was all he knew.
But Kumiko convinced him that if he stayed in the Yakuza, Ayaka and her relationships with her father would suffer. With her urging, he took a job as a fish monger to give a normal life for her. But upon giving up his old job, Ayaka immediately dumped him. According to Noda, she wanted a beautiful and dangerous life as the wife of a Yakuza member. Minoru was heartbroken by the break up.
Time passed though and he eventually got over her. He continues to serve as one of Kumiko's protectors and brother.
Personality
He takes the well-being of Kumiko very seriously, and when she is threatened, made fun of, or anything else that can be considered harmful Minoru tends to take his protective actions to the extreme. As he is considered one of Kumiko's two little brothers, he and Tetsu often make fun of her crush on Shinohara Tomoya.
Gallery