History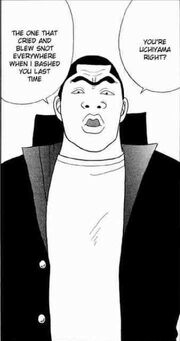 Tsuruta is known to be the strongest pupil in the school. He and Kudoh were the bullies to the juniors, and Tsuruta was eventually kicked out. He returns to school in Episode 9 for the festival thanks to the Vice-principal. The seniors basically used him to start fights with the juniors, until he and Kumiko secretly had a fight. Kumiko won and in return had Tsuruta stop being a bully and start hitting the books. Tsuruta may seem tough but he's actually a kind person and a good cook. He also shows up in episode 11
of the anime, to try to help the guys get Shin out. In the manga, he becomes part of Kumiko's class because honestly, he couldn't remember what grade he was in before being suspended.
Gallery
Ad blocker interference detected!
Wikia is a free-to-use site that makes money from advertising. We have a modified experience for viewers using ad blockers

Wikia is not accessible if you've made further modifications. Remove the custom ad blocker rule(s) and the page will load as expected.