Uma-No-O Nidame was a second generation boss. He appeared alongside Tanukibara Kaichou in a meeting to discuss business matters in chapter 7.Its during this meeting he developed an attraction to Kumiko's strength and was her first real suitor. He would reappear in chapter 35, with Tanukibara to request her hand in marriage.
Uma-No-O
Titles

Uma-No-O Kumichou

Characteristics

Gender

Male

Age

27

Professional Status

Affiliation

Tanukibara (alley)
Tenkai Group (alley)
Kuroda Family (alley)

Occupation

Yakuza
Uma-No-O met Kumiko during a business meeting among the other Yakuza bosses and was very enamored by the strength she showed, representing the Kuroda clan. He eventually approached the family with a marriage proposal. Though Kumiko was unsure with the idea, her grandfather was willing to hear him out at least. When Shinohara apparently agreed that she should consider the proposal, she was left shocked. She agreed to the meeting and the Yakuza leaders talked. But before anything was really settled, Kumiko interrupted and announced that she'd decide on the marriage proposal.
If Um-N-O would agree to follow it on "her ways". Tanukibara was intrigued and asked if him if he would agree; to which Um-No-O agreed happily. She then changed her formal attire and begged her suitor to fight her. She felt that she would not marry a husband weaker than her. Um-No-O played along with the request and he agreed to fight her. While the other members were a bit shocked, Tanukibara welcomed the match with joy. However, the fight wouldn't last long.
Because of Kumiko's upbringing and strength, she defeated her suitor with ease. But Uma-No-O was not undeterred, he vowed to propose again after he got stronger with hopes of defeating her. Though both Ryuichiro and Tanukibara both secretly agreed, he'd never achieve that goal.
He's not seen after the that. Its assumed he's still running the his group and training to someday duel against Kumiko.
Uma-No-O is her first real suitor and also probably a third as a character who was attracted to her. The other two were Shinohara and Shin.
There is a possibility that he could have been given a cameo in the anime version. As one before in the anime, Tanukibara did have a male yakuza member accompanying him. But in the anime the attended member was called Kakita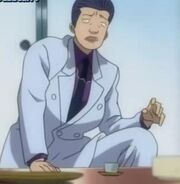 .